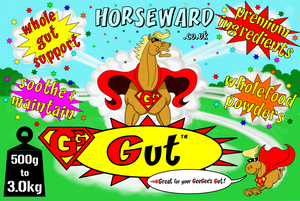 GG GUT™ GGgreat for your geegee's gut!
Regular price £29.95 Sale
 
GG Gut™ is a unique digestive conditioning supplement created with the finest certified Organic ingredients. It is designed to soothe and maintain the gastro-intestinal tract.
50 grams twice a day as a loading amount, or during periods of stress, or for horses with known or suspected gut issues. GG Gut™ can be fed at half to a quarter of this rate for maintenance once improvement is seen.
GG

G

reat for your geegee's gut!
DIRECTIONS FOR USE
Based on average 500kg horse. A level 100ml scoop (enclosed) holds 50 grams of GG Gut™ (scoop is graduated for accurate measuring):
For horses showing obvious symptoms of digestive discomfort, feed 75 - 100gms a day until comfort levels improve
Split between 2 to 4 small dampened feeds if possible
As improvement is observed, reduce amount fed to 50 grams daily, ideally split into two or more feeds

25 grams a day may be fed to horses who are considered candidates for digestive disturbance or simply as an excellent gastro-intestinal conditioner

For best results use GG Gut

™

alongside an ad lib forage, high fibre, minimally processed, unmolassed feed regime
 INGREDIENTS
All of our ingredients are human food grade, certified Organic or approved for use in Organic systems. For more information on these ingredients, and why we use them, visit our GG GLOSSARY or click on the links below: