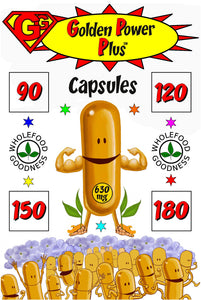 GG GOLDEN POWER PLUS™ CAPSULES Turbo-charged turmeric supplement!
Regular price £16.95 Sale
All of the quality and convenience of GG GoldenPower™, our fantastic, ready to use, high potency turmeric wholefood supplement - with a Plus - and in CAPSULES! 

GG GoldenPowerPlus™ gives you all of the premium ingredients that make up GG GoldenPower™ (details here) and combines them with two more powerfully antioxidant herbs with a long tradition of use as anti-inflammatories - Boswellia serrata and Uncaria tomentosa - and the sulphur compound MSM, in vegan capsules.  Nothing else is added - no bulking or flow agents, no fillers. 

 Golden capsules with the Power - and the Plus!
DIRECTIONS FOR USE
Take one or two capsules three times a day depending on individual requirements. Capsules can be taken with water, and with or without food.
INGREDIENTS
All of our ingredients are human food grade, certified Organic or approved for use in Organic systems. For more information on these ingredients, and why we use them, visit our GGGLOSSARY or click on the links below: