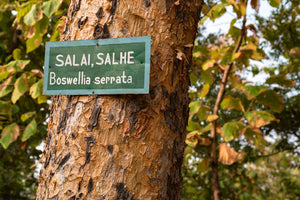 BOSWELLIA SERRATA EXTRACT (65% Boswellic Acids)
Regular price £19.95 Sale
Boswellia serrata is proven in Western medical research as a safe and exceptionally effective anti-inflammatory and anti-arthritic. This human food grade extract is a concentrated and stabilised powder, with 65% boswellic acids. It's 100% pure with no fillers. FREE UK POSTAGE!
Suggested feeding rate (500kg horse): 2-4g a day mixed into feed. Amount may safely be increased further if improvement continues to be seen. This product should be fed with a fat source such as micronized linseed to improve bio-availability of the fat-soluble boswellic acids.
The enclosed scoop at level fill contains approximately 2g of Boswellia serrata Extract.
For more information please click here.
We use Boswellia serrata Extract in the following products: