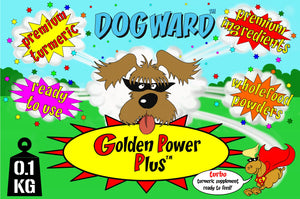 GG GOLDEN POWER PLUS™ FOR DOGS - Turbo-charged turmeric supplement!
Regular price £16.95 Sale
All of the quality and convenience of GGGoldenPower™, our fantastic, ready to feed, high potency turmeric wholefood supplement - with a Plus!

GGGoldenPowerPlus™ gives you all of the premium ingredients that make up GGGoldenPower™ (details here) and combines them with two more powerfully antioxidant herbs with a long tradition of use as anti-inflammatories - Boswellia serrata and Uncaria tomentosa - and the sulphur compound MSM. Need a dog-sized dose? You've got the Power - with a Plus!
DIRECTIONS FOR USE 
The enclosed scoop at level fill holds 1 gram of mix. Half a scoop is suitable for toy and miniatures with up to 4 grams for giant breeds but dosing can safely be varied to cater for individual needs. We recommend splitting the daily dose between two meals if possible. Most dogs find it very palatable but it might be more acceptable in a wet rather than dry food.
INGREDIENTS
All of our ingredients are human food grade, certified Organic or approved for use in Organic systems. For more information on these ingredients, and why we use them, visit our GGGLOSSARY or click on the links below: