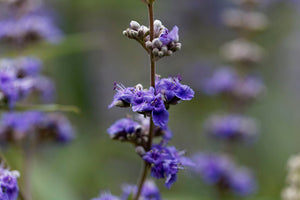 ORGANIC VITEX AGNUS-CASTUS BERRY POWDER
Regular price £12.95 Sale
Certified Organic Vitex agnus-castus berries, warm air-dried and then cool-ground in small batches here at Horseward to retain maximum nutritional value.
Vitex, also known as chasteberry, is often the main constituent in supplements for moody mares and riggy geldings and is thought to assist in hormone regulation. We decided to label our powder with its formal name of Vitex due to the increasingly common usage of the rather cute autocorrect for agnus-castus - Angus Cactus!

Suggested feeding rate (500kg horse) 20g a day. A level 30ml scoop (enclosed) contains 10g of Vitex.
For more information please click here.