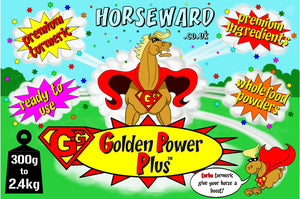 GG GOLDEN POWER PLUS™ Turbo-charged turmeric supplement!
Regular price £24.95 Sale
"The Black Pearl has benefitted from the magic of Horseward's Golden Power Plus, to the extent that she can now bend and flex her hind legs in a way that her x-rays would say could never be possible again".
Julie, Aberdeenshire.
All of the quality and convenience of GG GoldenPower™, our fantastic, ready to feed, high potency organic turmeric wholefood supplement - with a Plus!

GG GoldenPowerPlus™ gives you all of the premium ingredients that make up GG GoldenPower™ (details here) and combines them with two more powerfully antioxidant herbs with a long tradition of use as anti-inflammatories - Boswellia serrata and Uncaria tomentosa - and the sulphur compound MSM. No time to paste? You've got the Power - with a Plus! 
"I used this on my 23 year old cob after him going noticeably stiff following the weather change - what can I say! It is awesome, my super happy jumping cob is back regardless of the weather!"
Rebecca, Crewe.
Superb results from only 20gms a day.
DIRECTIONS FOR USE 

Based on average 500kg horse. The enclosed 20ml scoop at level fill contains approximately 10gms of GG GoldenPowerPlus™:
Introduce gradually over several days

Simply mix into dampened feed

Split daily amount between two feeds if possible

Feed from 20gms a day for maintenance

Up to 60gms a day for horses in strenuous work or with existing issues
We also sell GoldenPowerPlus for Dogs™ and if you suffer from aches and pains yourself why not try our GoldenPowerPlus Capsules™?
INGREDIENTS
All of our ingredients are human food grade, certified Organic or approved for use in Organic systems. For more information on these ingredients, and why we use them, visit our GG GLOSSARY or click on the links below: