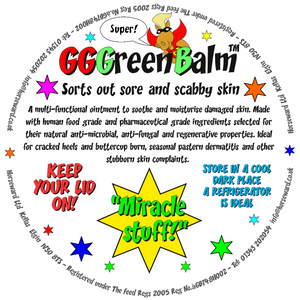 GG GREENBALM™ - soothes sore and scabby skin. "Fab results!"
Regular price £19.95 Sale
GGGreenBalm™ is a multi-functional salve made with human food grade and pharmaceutical grade ingredients which have been selected for their natural abilities to soothe, moisturise and nourish damaged skin. Ideal for cracked heels and buttercup burn and a very useful weapon in the fight against seasonal pastern dermatitis and other stubborn skin complaints.
For testimonials click here
DIRECTIONS FOR USE
Gently clean the affected area with warm water and blot dry thoroughly (kitchen towel is ideal for this). Remove a small amount of GGGREENBALM™ with a clean teaspoon or spatula. Allow it to soften a little in the warmth of your hand. Apply a thin layer to the affected area. Ideally apply two to three times daily.

GGGREENBALM™ is made entirely from, human food grade and pharmaceutical grade ingredients. It is a versatile and effective balm which is easy and pleasant to use.

INGREDIENTS