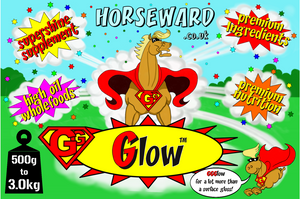 GG GLOW™ Gives your horse a lot more than a surface gloss
Regular price £28.95 Sale

GG Glow™ Highest quality certified Organic ingredients provide your horse with a banquet of beneficial fats and oils in a minimally processed wholefood powder. If you're looking for a conditioning supplement for a super shine, from the inside out - go for the GG Glow™!
Feed from 30g for superb condition and shine up to a maximum of 400g a day for ultra weight gain.
It's something of a myth that a shiny horse is a healthy horse. Yes, a dull staring coat is a clear sign that something's not right. But many horses will display a lovely shine if you give them a glug of bog standard grease-in-a-bottle every day. Whether it's actually doing them any good is another matter!
HOW IT WORKS
GG GLOW™ is a unique conditioning supplement. It is a combination of four certified Organic wholefood oil-rich powders:
whole ground seabuckthorn berry with its unique profile of omega oils

stabilised milled linseed for excellent levels of Omega 3


pure high-oil coconut milk powder (NOT processed powdered oil)

oat bran with a beta-glucan content of 4.9% and 8.3% crude oat oil
All together they are not only extremely palatable for the fussiest feeder but also provide a wide range of antioxidants and bioactive phytonutrients, over and above the unique combination of oils they deliver. 
GG GLOW™ is easy to feed with no oily mess and no fillers.
50gm of GG GLOW™ a day will promote wonderful coat condition and general bloom. For weight gain increase the daily amount gradually until increased condition is being observed. Maintain feeding level until desired condition is reached and then reduce by 50% for maintenance. If you are feeding specifically for weight gain, Horseward's GG GLOWPRO™  offers the GG GLOW™ formula with generous levels of probiotics.

 DIRECTIONS FOR USE 
Introduce gradually over several days
Simply mix into dampened feed
Split daily amount into several feeds if possible
Just 50 grams a day for super shine

Feed from 100 up to 400 grams a day for superb condition and weight gain
INGREDIENTS
All of our ingredients are human food grade, certified Organic or approved for use in Organic systems. For more information on these ingredients, and why we use them, visit our GG GLOSSARY or click on the links below: