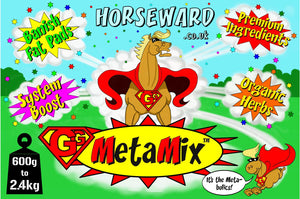 GG METAMIX™ It's the metabolics!
Regular price £35.95 Sale
GG MetaMix™ combines certified Organic herbs with human grade chelated magnesium and premium MSM to provide nutritional support for metabolic issues. Trials with client horses and at Horseward have been proving very successful in reducing cresty necks and fat pads, improving overall demeanour, and promoting a more active and positive outlook. We have consistently found that minimally processed organically grown herbs are significantly more effective than non-organic alternatives. Organic produce has been scientifically demonstrated to have significantly higher antioxidant levels than conventionally grown equivalents as well as minimal levels of chemical spray residues which can be metabolically disruptive.
Feed just 20g a day for maintenance. Initial loading of 40-60g a day is recommended for long-standing issues.
DIRECTIONS FOR USE
Based on average 500kg horse. The enclosed 20ml scoop slightly rounded holds 10 grams of 
GG Meta

M

ix
™
:
Introduce gradually over several days
Simply mix into dampened feed
Feed 20 grams a day for maintenance
Feed up to 60 grams a day for stubborn or long-standing issues
INGREDIENTS
All of our ingredients are human food grade, certified Organic or approved for use in Organic systems. For more information on these ingredients, and why we use them, visit our GG GLOSSARY or click on the links below: