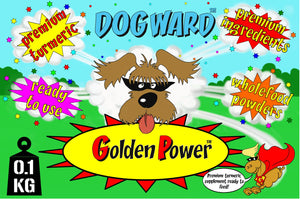 GG GOLDEN POWER™ FOR DOGS - High strength turmeric supplement, ready to feed
Regular price £14.95 Sale
GGGoldenPower™ - No mess, no paste, no fuss, no waste!
Made entirely with human food grade ingredients, our GGGoldenPower™ is the simplest way ever to feed turmeric to your dog - and this turmeric is not just any old turmeric! It is certified Organic, high potency (6% curcumin) pure ground turmeric root. This is combined with certified Organic high oil coconut milk powder, and bromelain, which is an  enzyme complex derived from pineapples.
HOW IT WORKS
GGGOLDENPOWER™ takes exceptional, super-strength turmeric and combines it with high oil coconut milk powder (not a processed, powered version of coconut oil or an oil-depleted byproduct). The oil enables absorption of the curcumin and other fat-soluble bioactive constituents of the turmeric. The use of oils in their wholefood context is in keeping with Horseward's policy to use minimally processed wholefoods rather than processed extracts. Whole plant foods contain a vast range of nutrients, many of which are beneficial in their own right.
There's no need to add pepper! 
The other key ingredient in GGGOLDENPOWER™ is bromelain. This is an enzyme derived from pineapples which maximises the absorption of the active ingredients in the turmeric. We include bromelain rather than black pepper or the extract piperine. Bromelain is not just easier on the gut – it actively assists digestion and is itself anti-inflammatory. Win win!
Natural Vitamin E (mixed tocopherols, the only form of Vitamin E permitted in certified Organic supplements) and pure organic kieselgur are added as natural antioxidant and anti-caking agents.
GGGOLDENPOWER™ is a revelation, a real boon for any of us who would rather spend our time with our dogs than in the kitchen but who still want to feed real top-quality bio-available turmeric. 

No time to paste? You've got the POWER!
DIRECTIONS FOR USE 
The enclosed scoop at level fill holds 1 gram of mix. Half a scoop is suitable for toy and miniatures with up to 4 grams for giant breeds but dosing can safely be varied to cater for individual needs. We recommend splitting the daily dose between two meals if possible. Most dogs find it very palatable but it might be more acceptable in a wet rather than dry food.
INGREDIENTS
All of our ingredients are human food grade, certified Organic or approved for use in Organic systems. For more information on these ingredients, and why we use them, visit our GGGLOSSARY or click on the links below: